HOT SUMMER NIGHTS BLOG HOP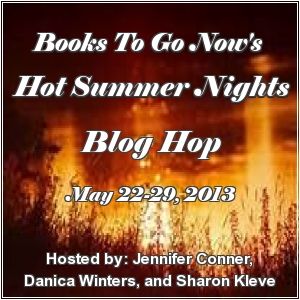 WELCOME FRIENDS TO THE HOT SUMMER NIGHTS BLOG HOP!
We want to first thank our wonderful hosts at Books To Go Now, Jennifer Conner, Danica Winters and Sharon Kleve, for providing us with this opportunity but also for the wonderful Grand Prize Gifts…
1st Prize Kindle Fire
2nd Prize $100 Gift Card to Amazon
**In order for readers to take part, they must leave their comment and email address. Two winners will be chosen at random and notified no later than May 31, 2013.**
To get in on those awesome prizes and all the other ones offered by the many other generous hosts, we encourage you to click on the link found at the bottom of the page and hop over to the other sites.
We have two cool giveaways, one for readers and one for authors.
[divider top="0″]
Our first prize will be
1 E-Copy of Colleen Hoovers new book
THIS GIRL
Colleen Hoover's New York Times bestselling Slammed series has brought countless readers to their knees with a whirlwind of love, passion, and heartache. Layken and Will's love has managed to withstand the toughest of circumstances and the young lovers, now married, are beginning to feel safe and secure in their union. As much as Layken relishes their new life together, she finds herself wanting to know everything there is to know about her husband, even though Will makes it clear he prefers to keep the painful memories of the past where they belong. Still, he can't resist his wife's pleas and so he begins to untangle his side of the story, revealing for the first time his most intimate feelings and thoughts, retelling both the good and bad moments, and sharing a few shocking confessions of his own from the time when they first met.
In This Girl, Will tells the story of their complicated relationship from his point of view. Their future rests on how well they deal with the past in this final installment of the beloved Slammed series.
Our second prize was donated by our sister site Gliterary Girl Media (click on the picture to go to the site).
They are raffling off a FREE COVER REVEAL to any author
a Rafflecopter giveaway
a Rafflecopter giveaway
Latest posts by gliterary girl
(see all)